Daniel Tindall: "arrived 1807 sentenced to life imprisonment for plotting to assassinate King George III"
Now, I ask you, who wouldn't be thrilled in finding that entry in the family tree? I was still a little girl when we rolled out the vast document on Uncle George's table (actually second-cousin George), and wondered about the entry about the maternal ancestor who started that branch in Australia. There was no family tradition in our branch about Daniel – he was a complete cipher. Until we read those words, my grandmother, mother and I had never heard about an assassination plot.
In those days before the internet and information at the fingertips, we relegated Tindall to vague family mythology – like the Spanish sea captain tucked somewhere in the ancestory who we recall on those funny occasions when someone mentions we look Spanish, or the distant relative who eloped with a bushranger. I gradually came to believe that he couldn't have been too serious about it. Probably, I figured, some poor sod who had a few across his chest one night in the local pub and muttered some narky remarks about how someone should bump off the king, and woke up the next morning with a sore head, clapped in irons, and one step away from embarking on a permanent voyage Down Under. If he'd been really serious, I rationalised, they would have executed him.
Turns out, my great-great-great-great-great grandfather was one of the last men in England to be sentenced to be hung, drawn and quartered.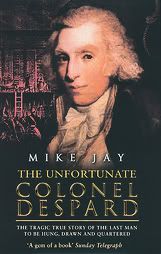 And here's where Colonel Edward Marcus Despard enters the picture.


I've just read Despard's biography by Mike Jay, and it's a fascinating and deeply sad story. Despard comes across as a powerfully appealing figure – an Anglo-Irish aristocrat and talented military hero who spent much of his career asserting the rights of disenfranchised men, including creoles and newly freed slaves, in the territory he administered in the West Indies (modern-day Belize). He married a local black woman who – through the glimpses we get of her in the sources – was intelligent, resourceful and a staunch ally for her husband.
He was a passionately committed to the ideas espoused in Thomas Paine's The Rights of Man, which endears him to me further, was involved with the United Irishmen and advocated the cause of Irish self government. He was held for three years without trial under the suspension of Habeas Corpus Acts that Pitt the Younger had brought into force
Of course it all comes to a crashing end, and Despard and a group of supposed co-conspirators were rounded up in the Oakley Arms in Lambeth (I was positively prescient in supposing there was a pub involved somewhere) on the charges of plotting to assassinate the King, seize the Tower of London, and take over the Bank of London.
If there was any truth in all this, one could not accuse them of thinking small!

Even government-stacked jury must have been amazed when Lord Horatio Nelson appeared to give evidence...on Despard's behalf, as a character witness. He had been Despard's comrade-in-arms in the West Indies, and the two had come close to death. He had the highest opinion both of Despard's character, courage and military ability. It says a lot about Nelson that although most of Despard's political views would have been anathema to him, he had the moral integrity to stand by his old friend. His evidencce did not save Despard, but it may have saved him from a more gruesome death.


They were tried on the thin evidence of informers (there are *always* paid informers in anything connected with Irish rebellion – it's traditional), and sentenced as follows: that they "be taken from the place from whence you came, and from thence you are to be drawn on hurdles to the place of execution, where you are to be hanged by the neck, but not until you are dead; for while you are still living your bodies are to be taken down, your bowels torn out and burned before your faces, your heads then cut off, and our bodies divided each into four quarters, and your heads and quarters to be then at the King's disposal; and may the Almighty God have mercy on your souls! "
Among the twelve men with Despard was Daniel Tindall (or Tyndall, as he appears in sources like the Newgate Calender). Daniel is still an enigma – I don't even know his occupation for certain, although one source suggests he was a government employed cabinet maker. He was married to a woman named Jane and had four children.
Three of the prisinors were "respited" - Thomas Newman, Daniel Tindall and William Lander. Due to fears of public unrest, the sentences of Despard and the others were not carried out. They were executed by hanging on the roof of the prison, and beheaded after death (with the onlookings hissing the executioner).
For a while after their 'respite', Newman, Lander and Tyndall languished in prison. In 1805 Spencer Perceval, the attorney general, expressed the opinion of himself and the Solicitor General's that action needed to be taken. They recommended that the King decide one of three courses of action: carry the sentence to execution ('considering the length of time that is elapsed, we conceive to be out of the question'), commute the sentence on some terms; or release and pardon the convicts. The final decision was that they be commuted to life transportation.
And so they came to Australia. Daniel arriving on the Duke of Portland in 1807. Daniel's wife, Jane, and children (including Mary, then seventeen years old, and my great-great-great-great grandmother) were able to join him here as free settlers, sailing on the Kangaroo in 1814.
There are a couple more glimpses – Daniel Tindall provided the gates with frame posts and steppers at the Sydney Burial Ground (what is today the site of the Town Hall). At least two of his children, including Mary, seem to have become pioneers in the Monaro district. Gradually they prospered, and Daniel seems to have faded out of the picture. Australians were rather ashamed of their convict ancestory right up until recent times, and even a political exile was no great prize. My mother's branch became property owners on a large scale – part of the squattocracy, one might say – and dedicated to Crown and Church. Nana remembered relatives who would cross the road rather than walk on the same side of the street as someone who supported worker's rights (she herself married an Irish-Catholic school principal – there must have been some of Tindall's spirit in her).
There's still a lot to learn, and there are some promising leads. Mike Jay has very kindly answered a note from me, and I'm hoping to link up with other descendents of Tindall and read the family history published a few years ago (just need to find it first). As Jay points out, he died for rights that democracies today take for granted, and which he proclaimed in his gallow's speech:
''Fellow Citizens, I come here, as you see, after having served my country faithfully, honourably and usefully served it, for thirty years and upwards, to suffer death upon a scaffold for a crime of which I protest I am not guilty. I solemnly declare that I am no more guilty of it than any of you who may now be hearing me
Though His Majesty's ministers know as well as I do that I am not guilty, yet they avail themselves of a legal pretext to destroy a man, because he has been a friend to truth, to liberty and to justice, because he has been a friend to the poor and the oppressed. But, Citizens, I hope and trust, notwithstanding my fate, and the fate of those who no doubt will soon follow me, that the principles of freedom, of humanity, and of justice, will finally triumph over falsehood, tyranny and delusion, and every principle inimical to the interests of the human race.
I have little more to add, except to wish you all health, happiness and freedom, which I have endeavoured, so far as was in my power, to procure for you, and for mankind in general."
I think it is no disgrace at all to be associated with a man like Edward Despard.