Dunedin and the 1920s....
As always, so much to catch up on! Some fabulous new clothing finds (yes, that means a French beaded flapper dress) and various adventures...including a visit to Dunedin to address the Otago Settlers' Museum on Orientalism in Art Deco Fashion. Here I am in full flapper mode (I love this world - what could be better than giving a lecture in 1920s vintage?):
There were some wonderful audience members - where else can you find vintage clothing fans, Babani enthusiasts, and silent film afficionadoes all gathered in a snowed in Sunday to talk about Art Deco fashion?
The venue was superb - the new wing of the museum is the old Art Deco train station, and is in the process of a major overhaul before re-opening next year. It's looking superb:
Unfortunately, after a gorgeous Saturday when we popped down to visit the Royal Albatross colony and the sealions and penguins, the biggest snow storm in fifty years hit NZ.
No, seriously. They had snow in as far up as Auckland. Many of the airports, including Dunedin, were closed. But, always looking on the bright side, it was an excuse to hole up in the hotel with a few good bottles of champagne...not to mention I finally found the right conditions for wearing my fabulous fur collar coat: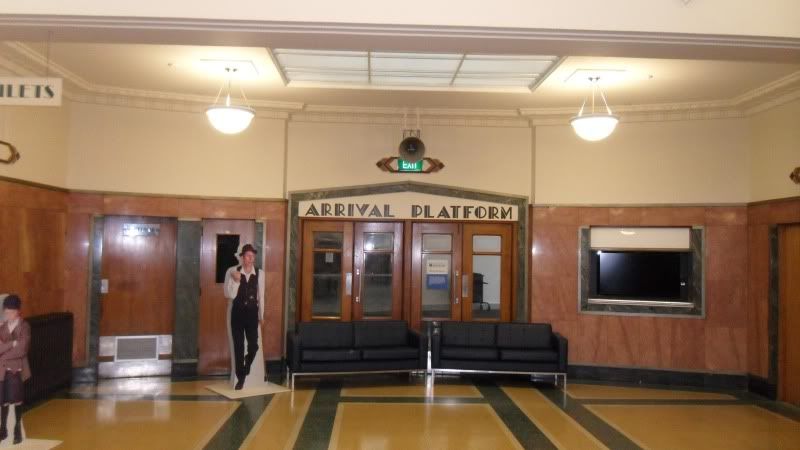 And just to polish that silver lining around the cloud a bit more, I had a call from the museum the day we were snowed in, asking if I'd like to come down and view their collection of clothing. I moved as fast as it's possible to go over ice and snow in heels, and down we went. It was like a textile candy store...not knowing exactly what was going to be in each box was such a treat. Some beautiful embroidery and beadwork...I took extensive photos for research, and the staff couldn't have been more accommodating.