You know...I think I've had one of those weeks of which we dream. Those ones- the ones in which you walk into an opshop and there's a Patou sitting next to a Fortuny and they're marked at $2 each? Or when some distant relative leaves you their entire collection of Vionnet and Schiaparelli gowns. I suppose a Fortuny could have made my week better, or a Vionnet. But that's probably what it would have taken. People like me - your ordinary individual, not overly financially endowed, not with social or financial clout, don't have weeks (let alone days) like my last couple have been.
I have to thank Nicole of Circa Vintage for thinking of me (and, I suspect, of prioritising love of the era and its couture over mere fiscal considerations), because I love this dress. Yes, it has a reputed Chanel provenance (and Nicole is one of those people you trust on provenance). But you know what? I've fallen for it entirely on its own merits. Head over heels. The quality breathes through it...the era breathes through it. You hold it up to the light, the beads sway, the light flicks of them, and a jazz band starts up in the back your head. It IS the 1920s. It's one of the most evocative pieces I've seen. It's every cliche, and every truth, about the era. And I'm smitten. (There must be something to psychoanalyse here - I fall in love with dresses as others fall in love with their dates, but with a more enduring infatuation).
I wish you could all see this, because it shouldn't be viewed static. It should always, always be viewed dancing. How on earth could that weight of beads be married to that ephemeral textile? How could it last? It wasn't mean to do so - it's a beautiful jazz riff that escaped its era. But it's not sorrowful, mournful survivor as some vintage is, a pitiful wreck or a ghost...it's light and it's laughter and it's dancing whatever era it's in.
See for yourself, although no still image can catch it: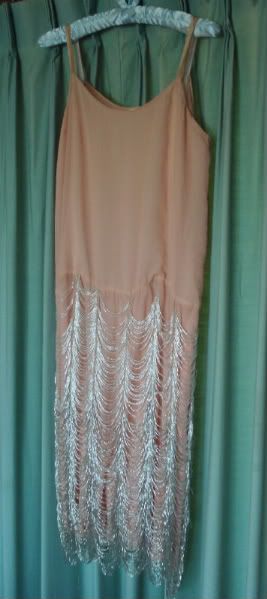 (
Collapse
)
One of the other dealers I love had a Molyneaux stole going for a song: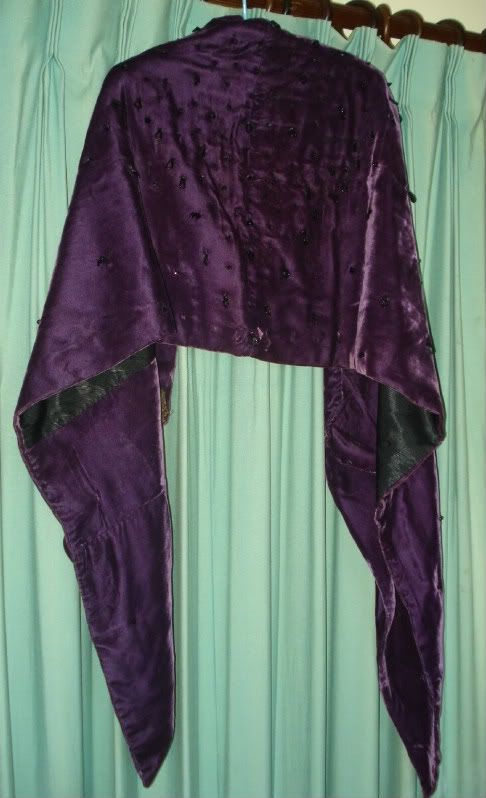 Unfortunately the black beading on it doesn't really show up in this pic. But oh, it has a lovely texture...a glamourous stole to snuggle into!
Am I a label whore? I'll tell you now, I picked this one off the rack before I ever discovered the label. Colour, texture and beading caught my eye.
(
Collapse
)