Napier 2011 - Wed 16 Feb
The annual odyssey is complete, and we can regroup and start planning for another year! This one was a tremendous affair, and involved both seeing old friends, meeting some I've only "met" online through Deco contacts, and meeting new Deco enthusiasts to share the passion with.
It was a bit more involved this time as I was asked by the Art Deco Trust to do a presentation in the "Learned Lectures" series, so we had to pack with an eye to gowns and accessories that could be used in the lecture.
Doesn't everyone travel in a vintage cloche? (Didn't want to risk this one even in the carry-on, as it's near-mint down to the lining)
Still, the final trauma of packing complete, we headed off at the most uncivilised hour of 4am to catch a 6.30 flight. The benefit of this early travel was that we breezed through checkin, customs and security, and I found to my relief that the Qantas lounge does have the Chandon available at 5.00 am. I planned to begin as I intended to go on!
Trouble free flight to Aukland and then on to Napier - I get that thrill every time I see the marine parade from the air. We arrived at the County to be met at the front desk with "Ah, so you're the notorious Inger!" - there was a pile of messages from friends waiting.
Jill opted for loose curls as her hair wasn't amenable to straightening after all the travel - the result was very effective.
Think I have photos somewhere else of this fringed dress - love the Assuit shawls, as they photograph so well.
We'd hardly arrived when our visitors began arriving - a delight to see Mark and Leigh, who didn't mind sitting in the suite while we fussed around them putting things in places so we knew just where to put our hands on a diamante bandeau or a feather fan. By the third or fourth incoming phone call in the first half hour, Hayley at the front desk was good-naturely referring to herself as "Your personal assistant" while I apologised for us being somewhat high-maintenance.
We'd hoped to have a chance to go out for a cocktail pre-dinner, but by the time we were all organised and Sandra had done a bit of shopping, it was time to toddle out to dinner at the Old Church.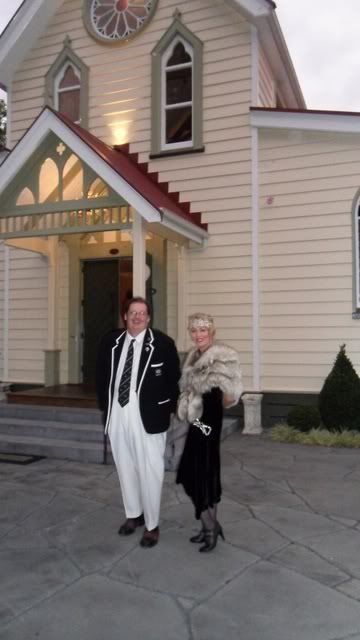 Mark and Jill outside the Old Church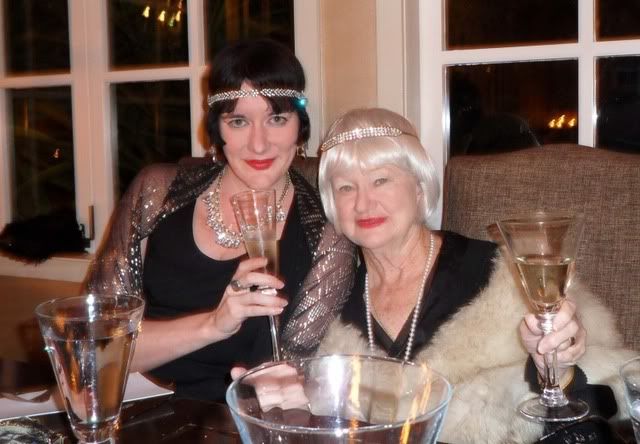 Do I not have the most gorgeous mother?
Fell madly in love with Jan and Grant...I already adored Grant's Facebook posts of Art Deco subjects, and this couple were even better in person.
Many more reunions here - Ally, with the worst of luck, had food poisoning (Kate said she was left elegantly reclining in lounging pajamas and was being looked after), Howie, Jeanette and friends were also coincidently dining there, and I had the chance to meet Michael (a bit delayed, but brought in by Mark), Grant and Jan for the first time in person. Also had a chance to meet Ally and Kate's friend Graham.
Not the best picture of Michael - I should have taken more the first night - but I wanted to put this up as I don't photograph enough men's wear, and he was always impeccable.
Jill in the spirit of Deco Drama (this looks like a movie set!).
A lovely dinner with some refreshing cocktails, before we finally hit the wall and Graham kindly drove us home in vintage style (lovely, lovely car!).